Cats are everywhere!
Taking an early morning walk in Old San Juan last Saturday, I noticed the cats on the sidewalk grooming and gently curious. I fell in love with a little kitten who wanted to chew on my big toe! When I reached down to play with her, she reached up and with two paws together, she grabbed hold of my glasses. Such a friendly kitten and so much trust towards a complete stranger! I worried about her safety.
However, I discovered that caring local community has come together to help these cats. If you would like to read more I've posted two links below, which provide information about the cats in Old San Juan, Puerto Rico.
Cats in Old San Juan
"The cats are a part of the Old San Juan experience, much like the cats and chickens that are a part of the Key West experience. Some of these cats are said to be descendants from the original cats that arrived on the ships when the first Spanish settlers came to the island. But the cats need help to stay healthy and alive. That is where the
Save a Gato
(
Gato
means
cat
in Spanish) organization comes into play."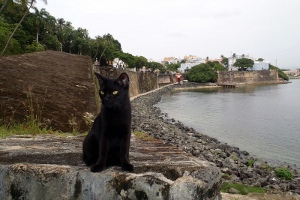 "The problem is that cat populations will explode without intervention.
Save a Gato
is a volunteer organization that manages the feral cats in Old San Juan by providing food and water. They also have a trap, neuter, and return (TNR) program, during which they also give necessary vaccinations." (Read more
here
.)
(Click on the title for more about this organization and how you can contribute.)
I'm Only a Cat
I'm only a cat,
and I stay in my place...
Up there on your chair,
on your bed or your face!
I'm only a cat,
and I don't finick much...
I'm happy with cream
and anchovies and such!

I'm only a cat,
and we'll get along fine...
As long as you know
I'm not yours... you're all mine!

Author Unknown
Also published in Oasis Writing Link